IL CLUB DEL GIALLO
compie
10 ANNI!
---
Nel mese di Giugno 1999 IL CLUB DEL GIALLO terrā il suo incontro annuale a Senigallia (Ancona).
Questo incotro rappresenta anche il decimo anniversario del
CLUB DEL GIALLO e di FOGLIO GIALLO,
entrambi fondati da Giuseppe Isnardi all'inizio del 1990.
Per celebrare questo evento, verranno inclusi nel prossimo numero di FOGLIO GIALLO
(la rivista ufficiale del CLUB DEL GIALLO)
alcuni messaggi augurali di altre similari associazioni nazionali
legate alla letteratura gialle e di mystery.
Per mandare il vostro messaggio di auguri,
riempite il form sito a fondo pagina.
I MESSAGGI DEVONO PERVENIRE
ENTRO FEBBRAIO 1999.
---
In June 1999 IL CLUB DEL GIALLO will hold its annual meeting in Senigallia (Ancona).
This meeting is te 10th anniversary of
IL CLUB DEL GIALLO and FOGLIO GIALLO too,
as tthey were estabilished by Giuseppe Isnardi since the beginning of the year 1990.
For this event, we will include in FOGLIO GIALLO
(our fanzine) some messages of greetings of other national
Crime Writers' Associations
and societes which are linked to crime and mystery fiction.

If you like to send such a message of greetings, you are very welcome.
Please fill the form at the end of this page.
MESSAGES MUST BE SENT BEFORE
THE END OF FEBRUARY, 1999.
---
---
SEND A GREETING MESSAGE TO IL CLUB DEL GIALLO
MANDA UN MESSAGGIO DI AUGURI AL CLUB DEL GIALLO
---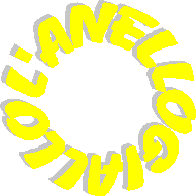 L'anello giallo
Questo sito č mantenuto da Vincenzo de Falco.
[ Indietro di 5 | Indietro di 2 | Indietro | Avanti | Avanti di 2 |
Avanti di 5 | Un sito a caso | Lista ]